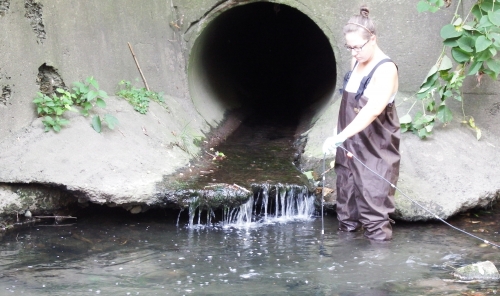 The lower Passaic River, near the confluence of the Second River, has shown some of the highest geometric mean pathogen levels in the New York-New Jersey Harbor in recent years, based on sample results from the New Jersey Harbor Dischargers Group (NJHDG). Since 2016, IEC has partnered with EPA in Phase II of a pathogen trackdown survey along the Second River and lower Passaic River. The objective of the project, is to identify—and ultimately eliminate—sources of pathogens along the Second River. Phase I of this project, completed from August to October 2016, utilized conventional pathogen indicators (Enterococcus, E. Coli, Fecal Coliform), coupled with microbial source trackdown techniques, to identify sources of pathogens. In Phase I, five surveys were performed each month over a three-month period, with at least one of the five monthly surveys targeting a wet weather event where the precipitation threshold was set to 0.5" (with a minimum of 0.25") within 48 hours of the start of sampling. This resulted in a data set including 15 sampling surveys, four of which were recorded as wet weather events. Over the course of the project a total of 39 sites were sampled at least once: 37 along the Second River and the two sites on the Passaic River.
IEC served as the lead sampling team, performing the in situ monitoring, as well as turbidity analyses on all samples and fecal coliform analyses on samples from the two sites located at the confluence of the Second River and Passaic River (estuarine sites). EPA Region 2's laboratory in Edison, New Jersey, performed microbiological parameters (Enterococcus at all sites and E. Coli at all freshwater sites) and performed microbial source tracking (MST) analyses using qPCR to help identify and quantify the contribution of human sources of pathogens to allow for the implementation of targeted pathogen control measures.
In 2017, Phase II of the project focused on targeted sampling and follow-up investigations in those areas exhibiting evidence of illicit sewage discharges based on Phase I pathogen results. IEC and EPA presented the Phase I findings and data at the Annual Conference of the New Jersey Water Environment Association in May 2017. IEC and EPA will continue working with NJDEP and local municipalities to "find and fix" illicit discharges and compromised sewer pipes contributing to the elevated pathogen levels detected in the area.
IEC intends to expand this type of trackdown project to other tributaries or near-shore areas exhibiting elevated pathogen levels, as needed, in conjunction with the EPA and other state and local environmental agencies and organizations. To support these investigations, IEC's laboratory also plans to expand its scope to include regionally applicable microbial source tracking methodologies, where practical.